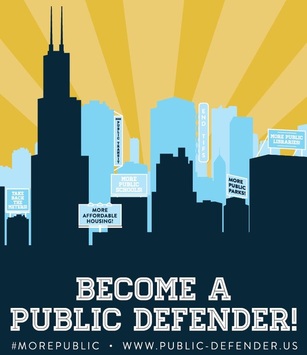 Have you noticed that the very notion of PUBLIC is under attack in Chicago?

We sold the Skyway Bridge.

We sold the Monroe Street Garages.

We sold our parking meters.

We closed 49 public schools while opening new charter schools.

Our public schools have experienced hundreds of millions of dollars in cuts.

We closed six public mental health centers.

Meanwhile, unemployment and violence has rocked many of our neighborhoods.

Life has gotten harder and more dangerous for SO many Chicagoans.

We wait in vain for our elected leaders to make the city work for ALL OF US.

Instead, Chicago's TIF program has showered BILLIONS of PROPERTY TAX dollars on wealthy and connected developers.

In order to raise funds to operate Chicago the Mayor has heaped us with over ONE BILLION DOLLARS in new taxes and fees while avoiding any debate about new and progressive sources of revenue for our city.

And now we have a multi-millionaire Mayor, a cent-millionaire Governor and a Billionaire President. They all have pursued or have vocalized desires around PRIVATIZATION of public assets.

We are asking YOU to become a Public Defender right now to help us STOP the privatization of the city, to STOP the strip-mining of public assets for private gain and to FIGHT for an EXPANDED public sector.

We want, we deserve #MOREPUBLIC.

---
If you are one of the first 1,000 people to become a Public Defender at ANY level, we will send you a unique NUMBERED pin that you can wear proudly to proclaim that you are ready to fight for #MorePublic!



We are asking you to join ONE TIME and make a recurring investment in democracy and protecting Chicago's public assets. We will use your contribution to (1) Sustain our organizing efforts, (2) Litigate against past and future privatization deals, (3) Educate and prepare people to run for office as Public Defenders. The Other Side is well funded and WAY ahead of us. It's time for us to fight back.


---

---

WE WILL FIGHT TO:

- Take back our parking meters from Morgan-Stanley
- End TIFs
- Cut public school class size in half
- Re-open shuttered public health clinics
- Restore cuts to Chicago's public schools, expand and upgrade programming (libraries where there are none, arts & music, health programs, sciences, etc)
- Build more public libraries
- Expand and upgrade our park system
- Expand mass transit options and routes
- Establish campaign schools to recruit and train people to run for office as Public Defenders



---

---
---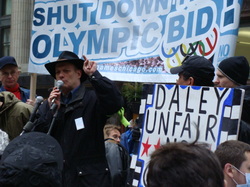 Tom Tresser
is the Lead Organizer for the Public Defender Project. Tom is a civic educator and public defender. He has been active in grass roots democracy in Chicago since 1991. His first voter registration campaign was in 1973. He has started or led 14 nonprofit community enterprises in the arts, community development and civic engagement. He has
taught/teaches classes
on public policy, leadership, community organizing and nonprofit management and advocacy at at a number of Chicago universities. You can see the range of his public work through these web sites he maintains:
Protect Our Parks
[stopped the privatization of Lincoln Park],
No Games Chicago
[derailed the 2016 Olympic bid],
The CivicLab
[co-working space dedicated to innovation in civic engagement and social justice],
The TIF Illumination Project
[investigating and exposing Tax Increment Financing programs], and T
he "Chicago Is Not Broke" Book Project
[investigating and educating around the TRUE state of Chicago's finances and possible futures]. Through this work, Tom has been to/invited/curated over 125 community meetings since 2008!
---